REDDING, Calif.—Acclaimed Bethel Music worship collective singer/songwriter Kalley is set to step into the solo spotlight with a two-EP debut October 25. Birthed in the aftermath of last year's California wildfires, the alt-pop/electronic Faultlines Vol. 1 and Faultlines Vol. 2 overarchingly reaffirm Kalley's trust in the God who doesn't run from disaster.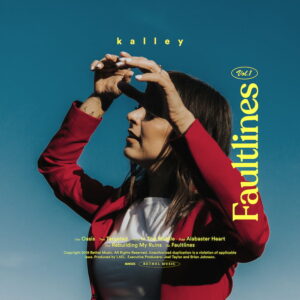 Produced by LaeL (Anberlin, Number One Gun), Faultlines Vol. 1 is hallmarked by six songs of breakthrough and unbridled expectation. Highlights include the upbeat opener and lead single, "Oasis," and the joyful "In The Middle," both proclaiming God's sovereignty in every situation; as well as "Alabaster Heart," an offering of surrender originally inspired during a time of worship. A live version of the latter song will be available October 4, along with a music video.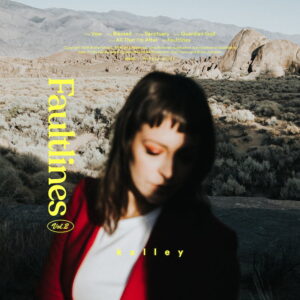 The introspectively-focused Faultlines Vol. 2 was produced by Jason Ingram (Lauren Daigle, Cory Asbury) and also features six selections. The EP is epitomized by the deeply vulnerable track "Sanctuary." Written after the wildfires as Kalley struggled with fear and survivor's guilt, the song gives way to ultimate hope, praising the One who will "be my fence, my safety net, my reinforcing."
"His presence is the answer we're looking for—the nearness of God is what I need in these situations," explains Kalley of the prevailing theme of both EPs. "When everyone else is running away, Jesus moves in and isn't worried about the mess of it all. I see a Jesus not scared of our questions, running into the rubble, right there waiting, all that we need. Many of these songs came from unpacking that theme, as well as grappling with my own journey of letting go of control and trusting that He is Emmanuel, God with us."
"These songs are a souvenir behind the bigger process," she adds. "It's special to feel like you have something you can give away as a result of what you've walked through. He uses and redeems our circumstances, and I hope these songs can be a part of other people's journeys as well."   

A veteran member of the Bethel Music worship collective, Kalley Heiligenthal also serves as a second-year worship pastor at Bethel's School of Supernatural Ministry. Co-writer of the popular praise anthem "Ever Be," which was nominated for a 2017 Dove Award for Worship Song of the Year, Kalley's "Every Crown" is featured on Bethel Music's latest Dove-nominated, best-selling compilation VICTORY. She is slated to be part of "The VICTORY Tour," hitting 10 cities across the country this fall. Showcased on Bethel Music's first Spanish language release, Bethel Music En Español, singing "Por Siempre" and "Sopla Espíritu," Kalley is also featured on the Bethel Music compilations Starlight (2017), Have it All (2016) and We Will Not Be Shaken (2015). She continues to minister internationally with Bethel Music and lives in Redding, California, with her husband and two daughters. 
About Bethel Music
Bethel Music is an eight-time Dove Award-winning and GRAMMY®-nominated Christian worship ministry formed as an extension of Bethel Church in Redding, California. Beginning in 2001, Bethel Music has grown from a local church music ministry to a global outreach comprising a collective of songwriters, artists and musicians.
Bethel Music has released 13 corporate worship albums, seven of which reached Billboard's Top Christian Albums chart, each carrying a unique expression of worship to inspire and unite the global church. Along with their eight Dove awards, "This is Amazing Grace" was named ASCAP's Christian Music Song of the Year in 2015, with Cory Asbury's "Reckless Love" earning the same honor in 2019. "Reckless Love" was also nominated for a 2019 GRAMMY® Award and topped Billboard's Christian chart, garnering over 60 million streams on Spotify. Bethel Music recently released their 14th compilation album, VICTORY, which reached #2 on Billboard's Top Christian Albums chart, and kicked off their accompanying 2019 VICTORY tour, consisting of 31 stops in three months. The album features Josh Baldwin's single, "Stand in Your Love," which peaked at #2 on Billboard's Christian chart.  
In addition to touring and ministering globally, Bethel Music hosts the biannual "Heaven Come Conference"; a two-week worship school, WorshipU, held on the campus of Bethel Church; and songwriting retreats in a personal setting with experienced writers. WorshipU, Bethel Music's online school of worship, offers ongoing teaching and training programs at worshipu.com.
For further information, visit bethelmusic.com or turningpointpr.com. Connect with Bethel Music on YouTube, Instagram, Facebook and Twitter.