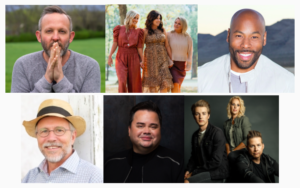 NASHVILLE, Tenn.—Shepherding intimate moments of worship and devotion imbued with the joy of collaboration, Andrew Greer & Friends' 
Tune My Heart 2…Songs of Goodness & Love (Lucid Artists/MA'M Recordings), is set to bow May 21. Following last year's Tune My Heart…Songs of Rest & Reflection—which debuted at #1 and spent 23 weeks atop Parable Christian Stores National Retail chart—the sequel features 11 cherished hymns and newly-penned originals and will be available at Parable Christian Stores nationwide, as well as via leading digital platforms. 
Helmed by the Dove Award-nominated production team of Andrew Greer, Travis Patton and Kyle Buchanan, and executive produced by Greg Lucid and Greer, Tune My Heart 2 is a thematic tapestry of instrumental and vocal selections showcasing guest turns from five award-winning artists spanning multiple genres.
Highlights of the project include "What Love Can Do," an impassioned piano ballad featuring bestselling Gospel recording artist Anthony Evans and co-written by Joel Lindsey and Greer; instrumental virtuoso Buddy Greene's thoughtful rendition of the timeless hymn "When I Survey"; the Greer-penned "There You Wait (Goodness & Love)," a gentle song of surrender showcasing the signature harmonies of GRAMMY®-nominated trio Point of Grace; and an Appalachian-inspired arrangement of "I Need Thee Every Hour" poignantly performed by Allan Hall—founding member of multi Dove Award-winners Selah—along with vocal newcomers Westward Road. 
"As with any 'Andrew & Friends' project, I am honored to feature artists who are not only friends of mine, but incredible musicians who use their immense talents to express their deep hearts for God and people," says Greer, whose unique partnership with Parable Christian Stores for nearly a decade has yielded four Dove Award-nominated, multi-week chart-topping releases.
"When we recorded the first Tune My Heart project last spring, I did not anticipate how much our world would change, and how music that channels peace would be needed more than ever for mental and spiritual well-being," he adds. "This sequel is framed with the state of our world in mind. As we move forward in light of ongoing challenges, we have great hope that indeed our Creator's thoughts towards us are ones of goodness and—above all—love."
About Andrew Greer
A seven-time Dove Award-nominated singer/songwriter, producer, author and television/podcast host, Andrew Greer's critically-lauded Tune My Heart and Angel Band recordings have featured collaborations with some of the top names in bluegrass, Christian and Gospel music. As an author, Greer's titles include Transcending Mysteries: Who is God, and What Does He Want from Us? co-written with Dove Award-winning singer/songwriter Ginny Owens; as well as Winds of Heaven, Stuff of Earth: Spiritual Conversations Inspired by the Life and Lyrics of Rich Mullins. 
Greer is also the co-creator and co-host of the popular streaming series Dinner Conversations with Mark Lowry and Andrew Greer. Since its debut in 2017, the series has featured such guests as Kathie Lee Gifford, Amy Grant, Scott Hamilton, Wynonna Judd and Montell Jordan, among others, garnering more than a million streams to date. Additionally, Greer co-hosts and co-produces Bridges with Patsy Clairmont and Andrew Greer: Spiritual Connections Through Generational Conversations, a podcast inviting listeners of all ages to find common ground embracing a fierce faith in a tough season. The show landed in the Top 15 on Apple's Religion & Spirituality podcast chart following its debut last year.  
For further information, visit andrew-greer.com. Follow him on Facebook and Instagram.